My experience playing wheelchair basketball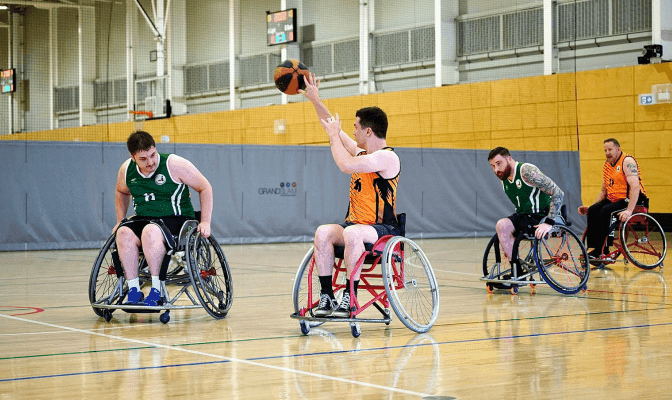 If you have never heard of wheelchair basketball before, it's a sport that is exactly what it sounds like, basketball but played in wheelchairs. The game is played on a regulation-sized basketball court, with five players on each side and the ring is set to 10 feet. Players compete in specialised sports wheelchairs with slanted wheels to prevent tipping over and a metal bar around the base to protect the feet. To move with the ball, you must bounce it at least once every two pushes of the chair and obviously, the aim of the game is to get past the opposing team's defence and score baskets. Here is my story of why and how I got involved in such a fun sport.
Why I started playing
About two and a half years ago now, I injured my knee playing field hockey. Hockey had been my sport all through high school and into my early twenties. Sometimes I took a year or so off, but always came back and played.
In early 2020, right before COVID hit, I tried out for a new hockey club. I hadn't done much exercise at all for the past year as I had sprained my ankle quite badly, and had been working hard at university. About halfway through the hockey tryout, I got this sharp pain in my knee. Now I will make a very long story very short. My knee just did not recover after months of rehab from that injury. I had surgery, and more rehab but nothing worked. Essentially, I had chipped off a layer of my cartilage, down to the bone, under my kneecap. Every surgeon I saw gave me the same 'this is a very hard problem to treat' spiel. It was unlikely that I would ever run again and I certainly wouldn't play hockey again.
This article is not about getting sympathy. What happened, happened and I have had enough time to accept it and move on with my life. This article is about the amazing sport I found while trying to build my life around my new limitations.
Discovering wheelchair basketball
Since the injury, I had been dying to get back into a competitive sport. I have always been very sporty and I need it in my life to stay happy and healthy. I had been regularly rock climbing but missed that social and competitive aspect of sport. Also, I just love the feeling of going hard at a sport and feeling completely exhausted.
While at my parent's house one day, a family friend of mine mentioned she played wheelchair Australian rules football. It is a league that is part of the club she plays for. I wasn't too keen on wheelchair rugby, and I knew wheelchair hockey did not exist, but it got me thinking about whether a local wheelchair basketball league existed. I played basketball for years when I was younger so I thought some of the skills would come back.
Before I did any research I was a bit hesitant. I guess my biggest reservation was if I was allowed to play wheelchair basketball? On the sports.org.au website it stated:
To be eligible to play wheelchair basketball, a person must in their lower limbs have an objective and measurable permanent physical disability, which prevents them from running, jumping and pivoting as an able-bodied player.
I was not sure I was 100% qualified. After some more research, I found a local social league that played not too far from my house. I emailed the lady who organised the competition and was told that any who can push a manual wheelchair is welcome to come out and play. So I just took the plunge and went out one Tuesday night for a game.
My first game
When I arrived, everyone was so friendly. The club owned a bunch of second-hand sports chairs that anyone could use. I was helped by someone to pick out a chair for the upcoming game. I was put in the orange team, where I still play to this day, with a bunch of guys that had played together for years. They were super welcoming and showed me some of the basics before the game.
It was 6:30 pm so that meant it was game time. The game starts in the middle with a ball up. The tallest player from each team contests to get the first possession.
Defence is very similar in wheelchair basketball. The defensive team sets up a zone with two players covering the bottom sections of the key, two players covering the top section of the key, and one player in the middle. Shooting baskets from outside of the key is very difficult, as the ring is no lower than regular basketball. So the main tactic of the offensive team is to penetrate the defence and get players in the key. That way, the ball can be passed to them and they can have a shot. The majority of points are scored right near the basket.
On my team, we have one very tall player. His chair is high and he has long arms. Our tactic is really to support him into the key, whether it be by blocking defenders or making space, and getting him the ball. He can also draw players to him, leaving another one of us open, so he can pass it to the open player who has a shot. When the goal goes in or there is a turnover, you turn around and wheel as fast as you can into the defensive positions.
Key takeaways
If you ever want to build strength and endurance in your chest and shoulders, wheelchair basketball is the sport for you. I remember the first season I played, my shoulders and chest would get so fatigued so quickly. I had strength in my upper body, but not this kind of endurance strength. After a couple of seasons, I have built up that endurance, but wow is it a workout!
I have now played for three seasons and I can honestly say I love it. I've made a bunch of friends, it keeps me fit and strong and I get my competitive outlet once a week.
If you have a knee injury, or any injury that is preventing you from playing the sports you love, I highly recommend checking out wheelchair basketball, as my teammates say, its wheel-y great fun!
---
Check out some of the games I made